Please Back Up Your Computer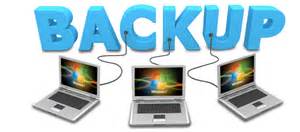 We have said it before.  Now we are saying it again.   Please back up your computer.   That means to make a copy of your data that you can restore either to your existing computer or to a new computer if you should have the misfortune to lose the data due to hardware failure, computer loss, program error, or user error.  Do it now, right after you finish reading this.  No excuses.  Do not put it off.  Even new computers can have bad hardware.
Recovery of data that has not been backed up is expensive and never guaranteed.
Here are some very good products that you can use to back up your data through your internet connection automatically. They all have easy set-up. We recommend at a minimum that you backup your "Documents", "Desktop", and locally kept email files (Outlook PST file). Also consider backing up your "Favorites". The products below will hold your hand through the process.
 JungleDisk
JungleDisk has a couple of features that are difficult to describe in non-technical terms. You can encrypt your data and even keep the key secret from JungleDisk so they can't see your data. Of course if you forget your encryption key you are sunk. JungleDisk also avoids copying duplicate data even if the data being backed up has has duplicate files or duplication within the files. So even though the storage is more expensive per gigabyte than some of the others, you end up spending less in most cases.
Carbonite
Carbonite has been around quite a while and is easy to use and has a very complete list of features at a very competitive price. Excellent for personal use.
IBackup
https://www.ibackup.com/index.html
IBackup is more geared to business with an array of server and workstation geared backup features.
Go to one of the above the websites, there is information, and you can get started right there. None of them will break the bank. There are other backup products out there.  We just picked three of them that we know to be reliable.